His flailing claws were either exclaiming, "Hug me!" or "Get off my lawn!"
From my daily drawings…
Crab – pen and inkwash. Drawn with a TWSBI Mini fountain pen (extra fine nib) using Platinum Carbon Ink and shaded with a Kuretake no. 8 fountain brush pen filled with Noodler's Lexington Gray ink (diluted 4 parts water to 1 part ink). Digital scan adjusted and edited in Photoshop. Color applied in Illustrator.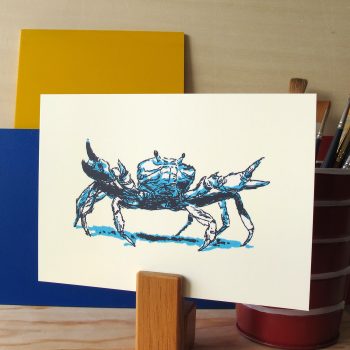 Visit my Etsy shop to purchase a 5×7″art print of this design.
Visit my artist shop at Redbubble to purchase this design as a art board, throw pillow or studio pouch.